"It feels like Christmas" said members of the Church of Jesus Christ of Latter-day Saints in New Delhi as they viewed the beautiful nativity scene erected at the mission home. With few reminders of Christmas in Delhi, the newly constructed scene was especially appreciated and enjoyed. 
During a conference in November, missionaries decided to create a nativity at the mission home for the seven congregations and the community to enjoy. Under the direction of Sister Hodges, who is serving with her husband President Hodges, supplies were purchased and on Thanksgiving Day the stable was constructed and lights hung in the surrounding trees.  During the next ten days, the work was gradually finished.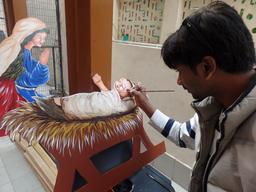 The plan was to have simple shapes of the figures painted in white, but Brother Devadanam Karatapu, a portrait artist, saw what was being done and offered to paint the detail work on the figures. His beautiful work made the figures look alive. Invitations were sent to the branches to visit and bring neighbors and friends.
"I nearly burst into tears when I walked into the yard today.  It was so special" said a member as she described her feelings. "The characters are lovely and the stable is so perfect."
On Monday evenings and on Christmas Eve, the Young Single Adults from the congregations sang carols for twenty minutes, followed by missionaries singing and reciting scripture passages. 
A table was set up where Christmas cards were made by stamping Christmas symbols with potato stamps and writing Christmas messages.  Copies of  "The Living Christ" and "The Family, A Proclamation to the World" were available for each family to take home. The videos from the last two Christmas initiatives, "He is the Gift" and "A Savior is Born" were played throughout the evening.  Placards of "He was born so I......." were filled in by each visitor and their picture taken.  Sister Hodges stated "It got better each night as the word spread."
Brother Dev, the artist, spent many long hours perfecting the faces of the figures.  After the completion of the beautiful figures, he was offered a good job and the ability to travel to it.  He said his life has been blessed and recalled the scripture of Matthew 6:33. "Seek ye first the kingdom of God and his righteousness; and all these things shall be added unto you."
One member wrote in a thank you note, "Perhaps it is because there are so few reminders of Christmas in Delhi that this was especially appreciated.  What a great work you are doing and how lucky for the missionaries who were able to work on it." 
It was a beautiful gift given to the members and the community to honor and celebrate the birth of Christ.