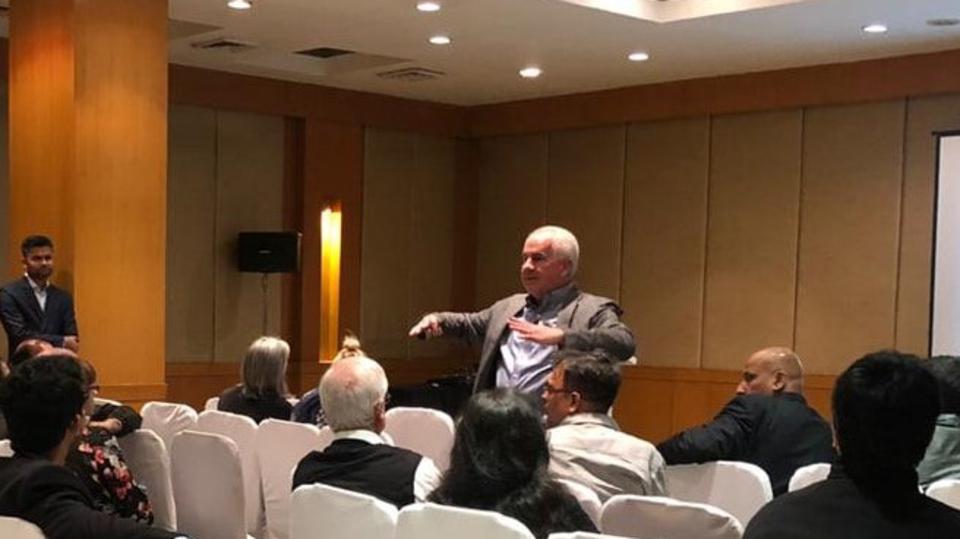 Friends and members of the BYU Management Society gathered on Saturday evening, November 30 at the Grand Hotel in Delhi to hear Lant Pritchitt discuss challenges facing India and the world. 
Addressing the group, he pointed to differences in patterns of population growth, technology,  the quality of education and institutional integrity as factors that will impact the future global and Indian economies. 
For Praveen Beesa, a local entrepreneur and general secretary of the India Chapter, the takeaway was the need for a stronger ethical foundation in government and business.
"This is exactly what is needed today and what the Society is committed to.  Promoting and practicing ethical leadership is something that we can do as a Society and as individuals to create a better economic future."  
Dr. Prichitt is an American development economist.  Educated at Brigham Young University and MIT, he was formerly a professor of the Practice of International Development at the Kennedy School of Government at Harvard University and is currently the RISE Research Director at the Blavatnik School of Government, University of Oxford and a Senior Fellow at the Center for Global Development.