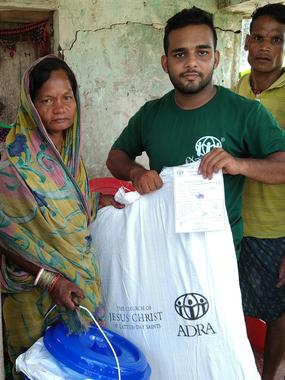 Latter -day Saint Charities, the humanitarian arm of The Church of Jesus Christ of Latter-day Saints has distributed basic necessities to one thousand households around the Puri District of Odisha state in an effort to help families rebuild their lives.
When Cyclone Fani hit the coast of India last May, early warnings, proper monitoring of the Cyclone's path and state government mandated evacuations of over 13 lakh people saved many lives.  However, the tremendous damage to homes, public services, infrastructure and livelihoods affected nearly 15,000 villages.  
Working with the Adventist Disaster and Relief Agency (ADRA), Latter-day Saint Charities has provided bedding, mosquito netting, tarps, ground cloths, cooking and eating utensils, and lamps to enable households to recover from the cyclone damage.
The relief targeted the most vulnerable households, including those headed by widows, women with minor children, families with a member affected by a disability or chronic disease, the elderly without support and pregnant women. 
"It is hoped," explained S.V. Sunil, coordinator of the donation, "that these materials will enable the families to put their households and lives back together and prosper."
Latter-day Saint Charities responds to emergencies all over the world. Earlier this year it partnered with ADRA to address the cholera crisis in Yemen. It also joined with other NGOs to relieve the refugee crisis in Cameron and spring flooding in Syria and parts of the United States.