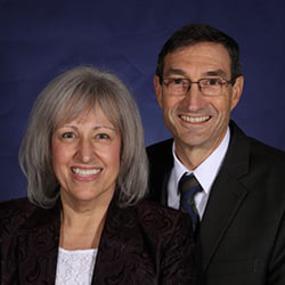 India Bengaluru mission president, Ted A. Thomas, and his wife, Karen K. Thomas, arrived in Bangalore on June 29, 2018, excited to spend the next three years serving the people of India. President Thomas and his wife will be leading, training and supporting those serving in the India Bengaluru Mission of The Indian Society of the Church of Jesus Christ of Latter-day Saints.
The Thomases are succeeding President Fred M. Mortensen and Sister Shauna A. Mortensen who, having served for the prior three years, have returned home to their family in the United States.  They touched many hearts in India and will be greatly missed.  Likewise, they will always carry a piece of India in their hearts.
President Thomas was born in New Orleans, Louisiana and his wife Karen is a native of Illinois.   They are the parents of eight children.
President Thomas received a bachelor's degree in engineering from the United States Military Academy.  He subsequently earned a masters of science degree in civil engineering from the University of Illinois and a PhD in engineering management from the Missouri University of Science and Technology.  His wife, Karen, earned a bachelor's degree in biology from Fort Hays State University in Fort Hays, Kansas.  They have served in many church positions and look forward to this opportunity to serve together in India.
"We were surprised but pleased to receive our assignment to serve in India," said President Thomas.  "We have a daughter-in-law with north Indian ancestry.  She cried when she learned of our call to serve her people." 
There are currently over 400 mission presidents across the world. They have varying degrees of experience with the language and culture of the countries to which they are assigned. They come from geographic locations around the globe, from all walks of life, varied experiences in Church leadership and from diverse family compositions.
The Thomases will have a variety of responsibilities in their new assignment. On a daily basis, they will oversee the physical, emotional and spiritual well-being of those assigned to serve in the India Bengaluru Mission.