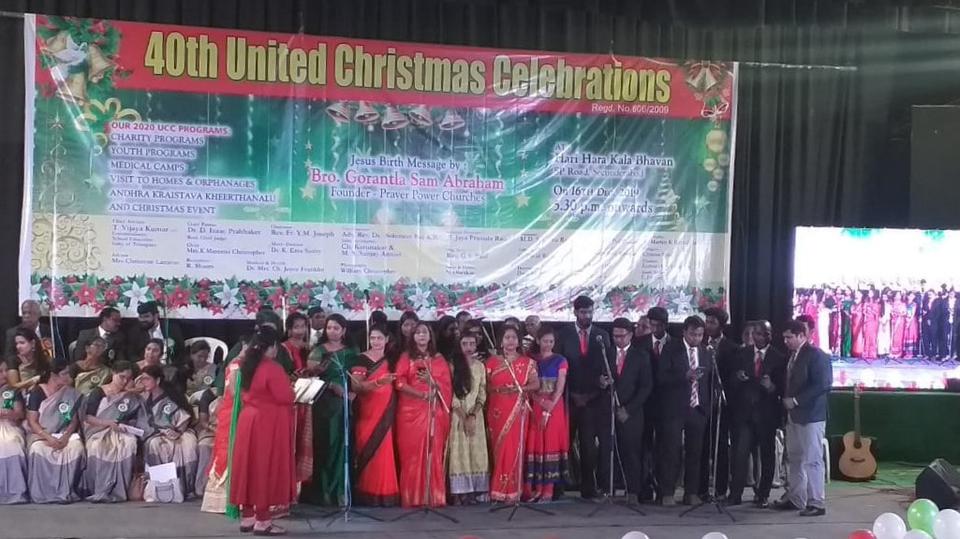 Members of The Indian Society of the Church of Jesus Christ of Latter-day Saints participated in the 40th annual United Christmas Celebration in Secunderabad, Telagana on Monday, December 16. 
Twenty choirs from various Christian denominations from the twin cities of Hyderabad and Secunderabad performed individually and also as united choir of 250 voices for an audience of over 1500 people gathered on the grounds of the Wesley Degree College. 
The United Christmas Celebration was a moving experience for both participants and audience.
"Although every member of our choir did not have exceptional musical talent, together our voices blended beautifully, and with the help of the Spirit we touched lives," said Bhushan Pulla, a member of the Church who sang in the choir.
Dr. K. Ezra Sastry, director the United Christmas Celebration Choir also noted the unifying power of the chorus.
"When a choir performs appropriate music, the hearts of both the choir and congregation are touched," Dr. Sastry said. "I have seen that music can transcend prejudices and break down barriers." 
For David Wesley, a member of the Church in Hyderabad and part of the organizing committee, the United Christmas Celebration is a unique opportunity for Christian denominations to come together.   
He said, "I was honored to be part of the committee and work with my fellow Christians to put this show together.  It's amazing to see what we can accomplish when we are united."