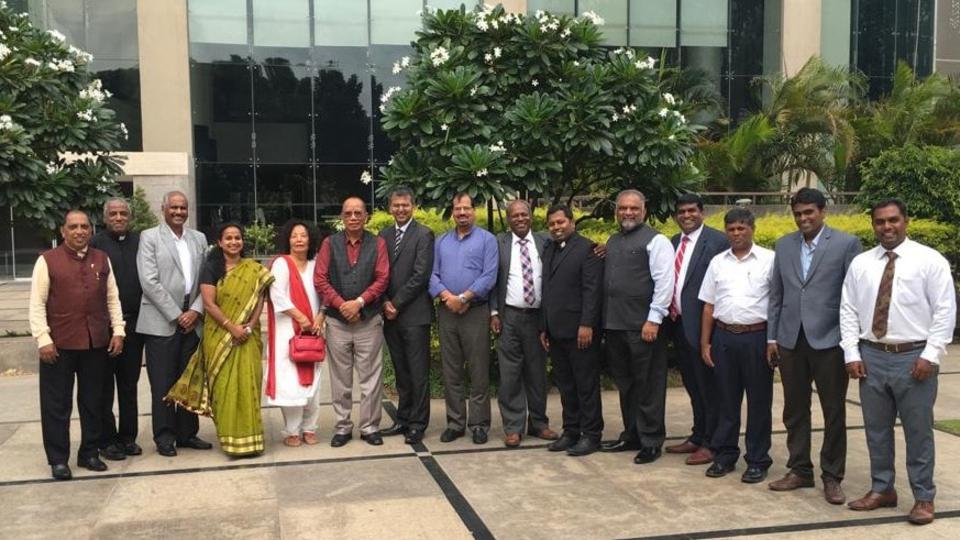 On Thursday, July 25, leaders of The Indian Society of the Church of Jesus Christ of Latter-day Saints met with their counterparts from various Christian denominations in Bengaluru to share a meal, discuss common goals and promote mutual understanding.
The group expressed a desire to work together for common Christian causes in Bengaluru and for the general good of society. 
Guests included Reverend Lourduswamy of St. Peter's Seminary, Dr.Abraham Ebenezer of the Church of South India, Mr. H T Sangliana, Ex. Member of the Parliament, Ex. Director General of Police from the Bangalore Mizo Fellowship Church, Reverant Faustine Lobo, Public Relations Officer for the Catholic Church in Karnataka and secretary of the United Christian Forum, Fr. Cyril Victor Joseph, Director of Paalana Bhavana Pastoral Centre of the Archdiocese of Bangalore and Perico Prabhu,  of the United Christian Forum and Joint Secretary of Ecumenism Commission of the Archdiocese of Karnataka. 
Nithyakumar Sunderraj, who heads the Church in Bengaluru, welcomed the group at the JW Marriott and expressed his pleasure at seeing many of those who had met Russell M. Nelson, President of the Church, when he visited the city in April of 2018. "We are delighted to gather again with you and hope to become better acquainted today," he said.
Robert K. William, overseer of all congregations in India, was also present and shared with the group the humanitarian work of the Church in India and the world through Latter-day Saint Charities, highlighting the relief given to victims of last year's floods in Kerala. He explained that local congregations were involved in preparing and delivering relief, noting that "it was a great experience for all of us to serve those in need."
The group also learned about the Seminary and Institute programs of the Church as well as the Book of Mormon and Temple worship. 
The luncheon meeting deepened acquaintances and enhanced the prospect of more meaningful interactions among Christian denominations in the future as they seek to find opportunities to work together to build society.