Eye Institute Partially Funded by Latter-day Saint Charities Provides Among Other Things Computer Training for Persons Who Are Blind or Visually Impaired
Latter-day Saint Charities (LDS Charities) is pleased to have been an early major supporter of the L V Prasad Eye Institute.  From a single location in Bangara Hills, Hyderabad, India, the L V Prasad Eye Institute, a not-for-profit institution founded by Gullapalli N. Rao in 1987 has grown into three tertiary centers, 16 secondary centers and 160 primary care centers.  Over 24 million persons have been served with 50% of the services provided free of charge regardless of the complexity of the care required.  "No one is turned away regardless of lack of funds or ability to pay," says Sam Balasundaram, Associate Director of the Institute. 
Its serves patients from all over the world but is focused and located in the states of Karnataka, Andhra Pradesh, Telangana and Odisha in southeastern India.  It is one of the premier eye care and research institutions in the entire world with professionals coming here for training from nearly every continent. In addition, it also develops cutting edge low-cost tools to aid the blind and visually impaired. 
     One of the departments funded by LDS Charities is the "Information Technology Research Centre."  Bandi Mohan Kumar is employed there as a trainer for persons with blindness.  He became blind at around age 14 because of a genetic problem. At 21 he learned how to use a computer using special software for the blind. At 24 he got a job training students with blindness or low vision at the Information Technology Centre. After training, his students have been successfully placed with such companies as IBM, CISCO, Microsoft, government, retail and other IT firms. Mohan says, "I love teaching because the ones who come here wonder if they will ever get a job. They see that I have a job and know that they can too."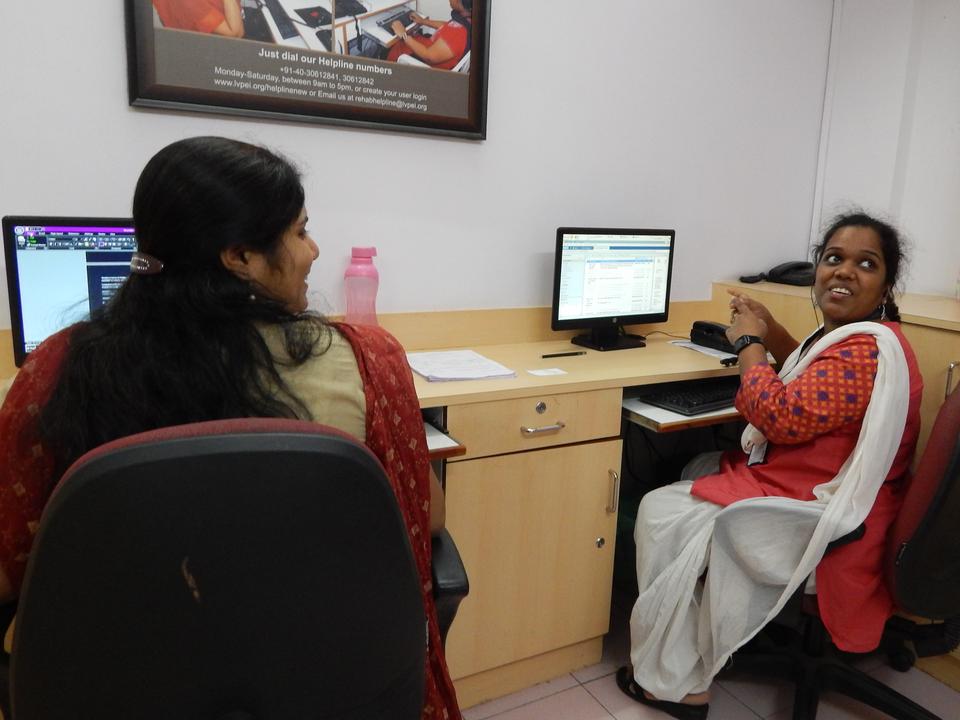 Two other women, Aishwarya Pillai and Priya Varghese, both blind, serve as counselors to persons who are blind or seeing impaired. Aishwarya studied mass communications (actually film) at the university but lost her vision due to a brain tumor in 2008 at the age of 19, in the third year of her studies. She decided she could either stay home, be sad and depressed or take life on with enthusiasm, whatever may come. Needless to say she chose the better way.  This year Aishwarya was a finalist for the Holman Prize. The Holman Prize awards three individuals from around the world who are blind or legally blind up to US$25,000 to carry out a dream project.  She hopes to open a film academy for persons who are blind. Priya lost her sight to retinitis pigmentosa after she finished college. Now they both work as counselors for persons who are visually impaired at LV Prasad, manning a helpline for those struggling to adjust to their sight challenges, providing smart phone training and guiding others in their situation toward independence. These are truly remarkable and beautiful young women.
This is just one of many humanitarian projects which LDS charities has participated in over the last 15 years to improve the lives of the people of India.